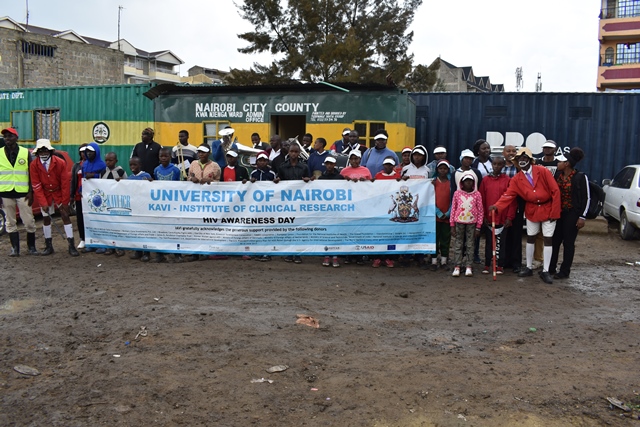 Mr.J.Mauti (Ward Admin) (Lt) Zangalewa troupe ready to join the Salvation Army band to start the "walk" Mukuru Kwa Njenga Assist County Commissioner office.
The HIV Vaccine Awareness Day (HVAD) is also known as World AIDS Vaccine Day (WAVD) is commemorated annually on 18th May worldwide. KAVI-Institute of Clinical Research (KAVI-ICR) - University of Nairobi and its partners are cognizant of the influence of communities surrounding study participants and potential participants-(from the grassroots to global stakeholders) and the importance of the community in research and development for HIV/AIDS vaccine.
HIV research also includes efforts to develop a vaccine for HIV treatment (therapeutic vaccine). A safe and effective therapeutic HIV vaccine could prevent HIV from advancing to AIDS, replace daily use of HIV medicines, and help eliminate HIV from the body. This year the theme of the day was "Advancing science to develop HIV vaccine – I am proud to support efforts to end AIDS".
This year, KAVI-ICR, IAVI and in collaboration with Vijana Amani Pamoja (VAP) and the Mukuru community held a football tournament match dubbed "the mbuzi tournament challenge" for adolescents/youth to commemorate the occasion. VAP is a community-based Organization that offers vocational training for the youth i.e. catering, hairdressing, and beauty.VAP also uses football as an educational tool and employs innovative methods and skills for preventing the spread of HIV/AIDS. The event took place at Chaminade grounds next to Mukuru police station. This event was also dubbed "Kick and Test" and HIV Testing services were carried out by Eastern Deanary AIDS Relief Programme (EDARP). There were thirty-two teams that played amid speeches and entertainment. The occasion was graced by the Mukuru Kwa Njenga ward administrator Mr. Jeremiah Mauti. The winning team (SHOFCO) was given the "mbuzi", a trophy, a ball and gold coated medals to each player. The number two team was awarded silver medals, a ball and a trophy whereas the team that won the third position was awarded a ball and silver medals. The day was rainy and muddy but did not deter anyone who purposes to attend and commemorate the day from participating.
Achievements of the day.
1.34 young people tested
2. Support from the community& administration
3. Establishment of new partnership-VAP
4. Community sensitization about KAVI-ICR
Challenges of the day
1. The day was rainy and muddy making it difficult to access the venue
2. The community members had an emergency meeting and wanted to use the same venue.
Recommendations
1. To continue involving communities in KAVI-ICR activities-this is key as good rapport with communities enhances understanding.
2. Community staff to be bought for protective footwear.
3. To continue identifying and work with organizations that share and enhance KAVI-ICR's agenda.