Featured News
Academic Scholarships
LONDON SCHOOL OF HYGIENE & TROPICAL MEDICINE
MSc- Epidemiology by Distance Learning- Scholarship
Academic Requirement
All applicants are required to have:
A first or second class honours degree or equivalent, from a university or other institution acceptable to the University of London, in health-related disciplines or in statistics or another appropriate subject. Work experience in a health sciences or health care setting is desirable but not essential.
Applicants with an appropriate professional or technical qualification in a health-related field, which satisfies the University as a qualification equivalent to a second class honours degree, together with at least three years' relevant experience, may also be considered on an individual basis. Read More...
Reflections of 16 Years At The KAVI INSTITUTE OF CLINICAL RESEARCH
It seems a lifetime ago since I joined KAVI as a scrawny pimply young doctor on 12th January 2004. After working 7 years at a busy A/E department, I knew clinical practice wasn't for me. I had tried my hand in ENT surgery but that didn't work out either. Somewhat lost and disillusioned, I needed out but didn't know what I wanted. Joining KAVI was a stepping stone to the unknown. Little did I know then that in KAVI I would find the true purpose of my career in medicine in the field of clinical research. Sixteen years later I reflect on my experiences and the lessons that I have learnt.
University Of Nairobi Covid-19 Public Forum
The University held a public forum on COVID-19 on Thursday 12th March 2020 at the Chandaria Auditorium, UoN Towers.
The forum brought together staff, students and members of the public to discuss the impact of COVID-19 and potential solutions.
It was led by five panellists who are eminent personalities in their fields - Professor Omu Anzala (Virologist & Immunologist, Professor Salome Bukachi (Medical Anthropologist), Dr Pamela Godia (Public Health Specialist), Dr Joy Kiiru (Economist) and Dr Marybeth Maritim (Infectious Disease Physician). The discussion was moderated by Dr Moses Masika, a Virologist.
Visit by Students and Teachers from Porvoo, Finland
On 10th January 2020, we hosted a delegation of students and teachers from Linnankoski High school and Linnajoki secondary school in Porvoo, Finland. The delegation was an educational tour; with a focus on the effects of climate change and health.
Young Investigator Award 2020 Winner
We are pleased to announce the first Institut Mérieux – KAVI-Institute of Clinical Research Young Investigator Award Winner, Dr Loice Achieng.
Dr Achieng is a Senior Lecturer, Physician and Infectious Disease Specialist at the Department of Internal Medicine, University of Nairobi.
Professor Kindrachuk Presenting on Incidental and Reservoir Hosts of the Ebola Virus at KAVI-ICR Journal Club
The New Year started on 24th January 2020 for KAVI-ICR Journal club with Professor Jason Kindrachuk from the Department of Medical Microbiology & Infectious Diseases, University of Manitoba, Presenting on Ebola Virus. The presentation was titled 'Identifying the molecular determinants underlying Ebola virus persistence in incidental and reservoir hosts.' The KAVI-ICR Journal club brings together scientists and students twice a month to listen to presentations of various projects. It's usually held at KAVI-ICR boardroom at 7:00 a.m. for two Fridays every month. The attendance was tremendous with Professor Keith and his students joining from the Department of Medical Microbiology, University of Manitoba.
KAVI-ICR Commemorates World AIDS Day 2019
Nairobi County Director of Health Dr Lucina Oyoo giving a speech during the 2019 World AIDs day celebrations held at Nairobi Calvary Temple Church.
World AIDs Day is a global event marked on the 1st of December each year. The occasion is held in support of People Living with HIV/AIDs, to commemorate those who have passed on due to HIV/AIDs related causes as well as celebrating the success and advancements made in the last decades in the prevention/management of HIV. This year's World AIDs day celebrations which were themed 'Communities makes a difference' was an opportunity to recognize the essential role that communities have played and continue playing in the HIV/AIDs response at national and local levels
IAVI-W001 Study Launched at the KAVI-Institute of Clinical Research – University of Nairobi
On 24th September 2019, the first volunteer was enrolled in the IAVI-W001 study at the KAVI-Institute of Clinical Research (KAVI-ICR) of the University of Nairobi.  The occasion marks the beginning of the 12th HIV vaccine clinical trial to be conducted at KAVI-ICR since 2001. This is a first-in-human study that uses a Native-trimer HIV envelope design that will hopefully stimulate broadly neutralizing antibodies against HIV. KAVI-ICR joins two other research institutes – The Ragon Institute of MGH, MIT and Harvard and the Fred Hutchinson Cancer Research Center-Seattle HIV Vaccine Unit- both in the USA which have already enrolled volunteers into the study.
Congratulations Professor Walter Jaoko!!!
KAVI-ICR Director Professor Walter Jaoko.
Professor Walter Jaoko was once described as understated - "he has the ability to quietly slip into the background" however his contribution to the HIV sector in Africa is nothing to be overlooked. He graduated as a medical doctor in 1986 and became an Associate Professor in 2007, full Professor in 2011 and has served as Chair of the Department of Medical Microbiology at the University of Nairobi. He has a deep passion for seeing improvements in the provision of healthcare services in Kenya and has conducted clinical research into infectious diseases transmission, treatment and control for the past 30 years, in the process publishing over 150 articles in peer-reviewed scientific journals. He also has a keen interest in health research ethics, and the promotion of ethical standards in the conduct of health research in developing countries. To the man in the street Walter Jaoko is not visible, but he represents the true spirit of a growing number of tenacious professionals who are determinedly working to eradicate HIV.
HIV is increasingly recognized not just as a medical issue; biomedical interventions alone will not be enough to end the epidemic. The Ten out of Ten Awards facilitates an important conversation about the intersections that must converge, in order to meet the UN target of ending all new HIV diagnosis by 2030. This exhibition amplifies the stories of 10 individuals, who represent a broad collective of academics, doctors, researchers, civil servants, human rights advocates and social influencers.
THE HONOUREES LIST
CARLOS CORREDOR
DAZON DIXON DIALLO
PROFESSOR KEVIN FENTON
PROFESSOR RUSI JASPAL
PROFESSOR WALTER JAOKO
MZZ KIMBERELY
MS. POVI FOLY LAWSON
DR SIMON RACKSTRAW
RITA
Emerging Techniques for Investigating Mucosal Immunity and Delivery of Therapies Symposium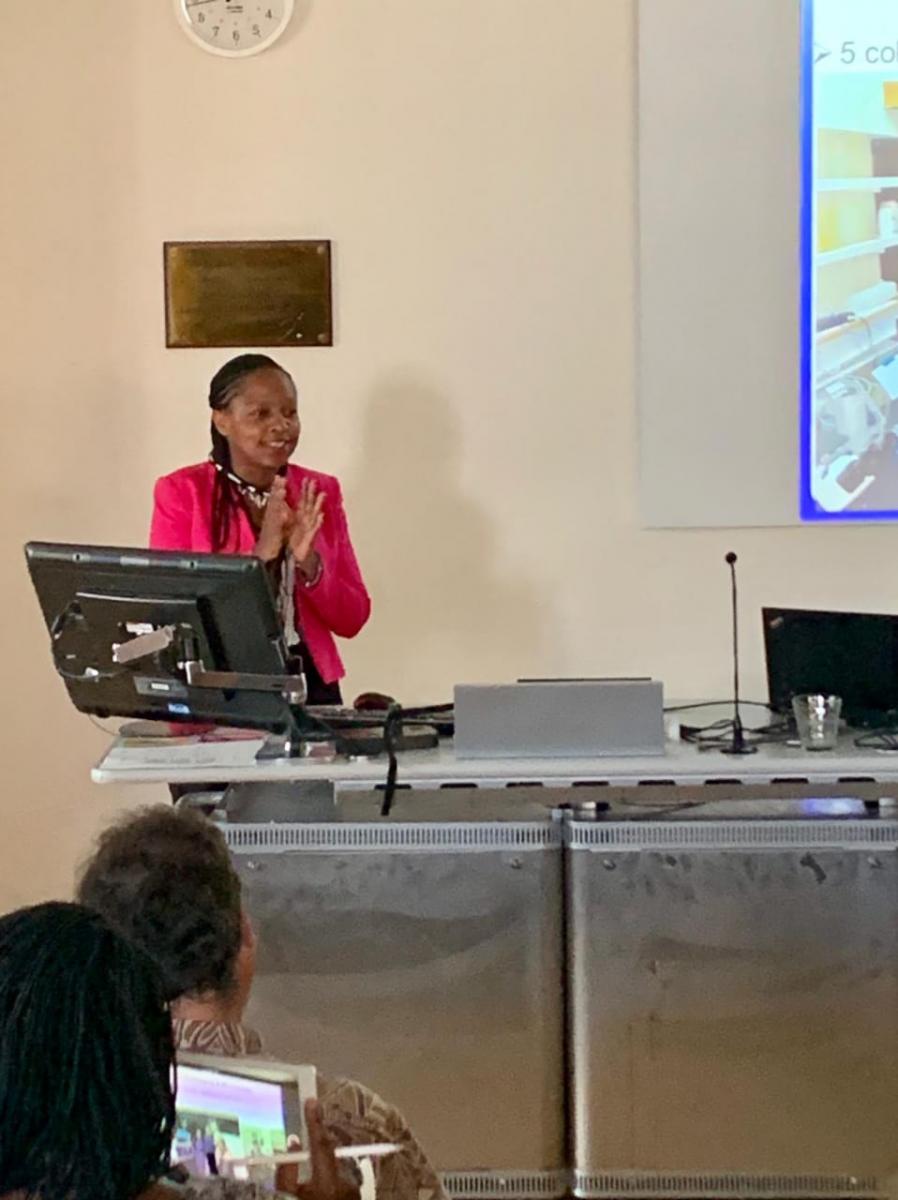 Dr Marianne Mureithi presented KAVI-ICR ground-breaking Mucosal Immunology work titled "Defining HIV-1 interactions at the Mucosa"  at the emerging techniques for investigating mucosal immunity and delivery of therapies symposium" held at the Anthony de Rothschild Lecture Theatre, St Mary's Campus Imperial College London, UK on August 5th, 2019. The symposium brought together pioneers in Mucosal Immunology such as Professors Robin Shattock, Tom Hope, Julia Fox and Trevor Hansel to discuss the challenges and opportunities to further our understanding of the mucosal barrier.  Thereafter, Dr Mureithi spent time at the Human Immunology Laboratory (HIL), Imperial College London, meeting various IAVI scientists and additionally attended other mucosal meetings together with Prof Tom Hope at the Francis Crick Institute and Kings College London which provided excellent networking opportunities and enhanced future collaborations. 
Collaborative Meeting with National Centre for Biological Sciences and Strand Life Sciences

DATE: 29th and 30th July 2019
Location: KAVI-ICR 
KAVI-ICR held a collaborative meeting with Indian partners - NCBS and Strand, to discuss ongoing and potential projects. The meeting was also attended by representatives from the School of Computing and Informatics, Department of Human Pathology, Plastic Surgery and the Molecular and Infectious Diseases Research Lab.
The team has already started characterizing the causative bacteria for gonorrhoea using Oxford Nanopore Sequencing technology. This will shed light on drug resistance which is a big challenge in the treatment of Neisseria gonorrhoea.
We are also setting up a bioinformatics lab which will be used to analyse sequencing data. 
These activities are supported by a sub-grant from NCBS through a grant by an Indian philanthropist, Narayana Murthy, a Co-founder of Infosys.
 Links:
Strand Life Sciences  
NCBS
School of Computing and Informatics
Department of Pathology
Narayana Murthy
Academic Talk on EZLife Bio's EFIRM Liquid Biopsy Technology
The UoN Chancellor, Dr. Vijoo Rattansi, UoN VC, Prof. Isaac Mbeche, Principal, CHS, Prof. Machoki, Prof. Jaoko, Director, KAVI-ICR and Dr. Mr and Mrs. Wei from Cherami Africa and other faculty members during the Academic Talk on EZLife Bio's EFIRM Liquid Biopsy Technology at  KAVI Institute of Clinical Research UoN on Friday 19th July 2019.
KAVI-Institute of Clinical Research, in conjunction with University of Nairobi partner Cherami Africa Limited, hosted an academic talk by Dr. Fang Wei (Chief Technical Consultant) and Dr. Wei Liao (CEO) of EzLife Bio on their EFIRM Liquid Biopsy technology.
This meeting attended by the Chancellor Dr. Vijoo Rattansi, Vice Chancellor Prof. Isaac Mbeche, Deputy Vice Chancellor of Academic Affairs Prof. Julius Ogeng'o, Principal of the College of Health Sciences Prof. James Machoki was to introduce this non-invasive method of cancer detection to University staff and students.
Liquid biopsy is a newly emerging non-invasive method of detecting cancer that aims to be utilised as an alternative to surgical biopsies. The test involves obtaining a blood sample to observe whether it contains cancerous cells from a tumour circulating in the blood, microRNAs, exosomes or circulating tumour DNA (ctDNA) with the latter now being lauded as the preferred detection method.
The technology has undergone trials in the US and China showing promising results in the detection of Non-Small Cell Lung Cancer from blood samples. KAVI-ICR at the College of Health Sciences is now tasked with validating the technology in Kenya through research.
Change of Leadership
Newly appointed Director KAVI Institute of Clinical Research Prof. Walter G. Jaoko. 
The Ag. Vice-Chancellor Prof. Isaac Mbeche has appointed Prof. Walter Jaoko as the new Director KAVI-Institute of Clinical Research, effective July 18th 2019. Prof. Jaoko is taking over from Prof. Omu Anzala who has served in this capacity for 6 years. Up until his appointment, Prof. Jaoko served as the Deputy Director KAVI-ICR and Chair of Department, Medical Microbiology since 2013.
Prof. Jaoko is a professor of Medical Microbiology and Tropical Medicine at the University of Nairobi. He is also an Extraordinary Professor in Medicine, Stellenbosch University. Prof. Jaoko is an accomplished researcher and scholar with extensive national and international experience and exposure. He has published extensively and is renowned for his contributions to scholarship and knowledge in various aspects of Medical Microbiology, Tropical Medicine and Bioethics Ethics.  He has conducted clinical research for the past 30 years in various aspects of infectious diseases transmission, treatment and control.
While handing over the baton to Prof. Jaoko, Prof. Anzala urged KAVI-ICR staff to accord the new director necessary support. He hailed his former deputy for an excellent and collaborative working relationship.
We at KAVI-ICR hail the outgoing director for superb leadership and wish to congratulate Prof. Jaoko and wish him well in his new position.
Nanopore Sequencing Training
KAVI Institute of Clinical Research in Collaboration with the National Centre for Biological Sciences, Bangalore, India, has organized a workshop on pathogen sequencing using Oxford Nanopore sequencing technology. This is taking place at KAVI-ICR from 24th to 28th June, 2019. The objective of this workshop is to train researchers at KAVI in Nanopore sequencing and basic data analysis then use that skill to study infectious diseases and other pathogens at KAVI and ultimately provide the same service at point-of-care. This will create a nucleus for a sustainable and diverse Indo-Africa program and start the dengue genetic diversity research activities under the dengue vaccine development project.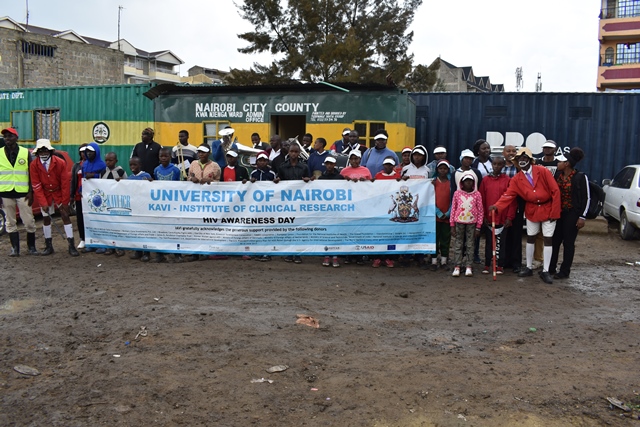 Mr.J.Mauti (Ward Admin) (Lt) Zangalewa troupe ready to join the Salvation Army band to start the "walk" Mukuru Kwa Njenga Assist County Commissioner office.
The HIV Vaccine Awareness Day (HVAD) is also known as World AIDS Vaccine Day (WAVD) is commemorated annually on 18th May worldwide. KAVI-Institute of Clinical Research (KAVI-ICR) - University of Nairobi and its partners are cognizant of the influence of communities surrounding study participants and potential participants-(from the grassroots to global stakeholders) and the importance of the community in research and development for HIV/AIDS vaccine.
This meeting between KAVI-ICR and Cherami, presided over by Prof. Omu Anzala and Mr. Wei Xiolin, was to formally introduce Dr. Wei Liao, CEO and Founder of EzLife Bio Inc.
Also present in the meeting were KAVI-ICR members Dr. Marianne Mureithi, Dr. Kefa Bosire, Dr. Moses Masika, Mr. George Kaiyare and Mr. George Ichoho, Cherami members Tony Gichuru and Mark Xu.
Dr. Liao, a well-known and respected scientist in both academia and industry, provided the collective group a presentation on EzLife Bio's technology EFIRM and its potential applications in clinical and laboratory settings using a tissue, plasma and saliva samples.
It was agreed that this technology would prove to be useful for the African continent and would initially be housed in the KAVI-ICR laboratory for validation and to explore its applications for non-communicable and infectious diseases currently affecting the region. 
Additionally, KAVI-ICR will provide a list of infectious diseases that EzLife Bio could create assays for and write up a proposal for the testing of circulating tumour DNA (ctDNA) in Lung Cancer.
Members of KAVI-ICR; Prof. Anzala, Dr Mureithi, Dr. Bosire and Mr. George Ichoho, this morning witnessed the signing of the University of Nairobi and Cherami Investment Group.
The partnership which will kick-start the process towards the establishment of the University of Nairobi Teaching and Research Hospital with a state of the art Cancer Research Institute is the first Phase of the development. The MOU was signed by the  University of Nairobi Vice Chancellor Prof. Peter Mbithi and the President of Cherami Investment Group. Also present was Cabinet Secretary, Ministry Education, Amb. Dr. Amina Mohamed and the Incoming University of Nairobi Council Chairperson, Dr. Julia Ojiambo
Defining HIV interaction at the Mucosa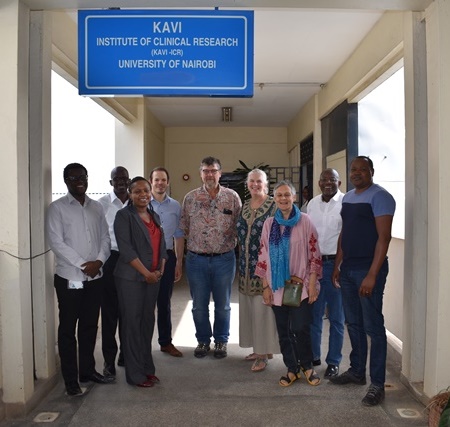 A Collaborators meeting held at KAVI-Institute of Clinical research (KAVI-ICR), University of Nairobi from 21st – 25th August 2018.
KAVI-ICR in collaboration with USAID, North Western University USA, Human Immunology Laboratory – Imperial College London, International AIDS Vaccine Initiative (IAVI) representatives has successfully established studies on HIV interaction at the mucosa.  These studies will contribute to the development of a universal effective HIV Vaccine and ultimately tackle the questions related to the early stages of HIV acquisition/transmission and develop future prevention strategies.
International Conference on Health (ICH 2018)
University of Nairobi Research Week
The inaugural 
University of Nairobi Research Week
 will be held from 
October 22nd to 26th, 2018
.  During the week, the University will host eleven International Conferences covering a broad range of disciplines.  In addition, several workshops, seminars and exhibitions will be held. Details on each can be found on the Research Week website, 
https://uonresearch.org/research-week-2018/
 .
We invite you to submit abstracts to present papers at the conferences, and/or to participate in the other research week activities. Please visit the site regularly for updates, announcements and additional events. 
HIV Vaccine Awareness Day May 2018
Processional march to mark HIV Vaccine Awareness Day in Kangemi on 18th May 2018
Every year on 18th May, the world marks the HIV Vaccine Awareness Day (HVAD). It is a day set aside to raise awareness of the continuing efforts by scientists to develop a vaccine against HIV- the virus that causes AIDS. It is also a day to honour all those who, in one way or the other, have contributed towards this global effort. This year, KAVI-Institute of clinical research (KAVI-ICR) of the University of Nairobi commemorated the day in Nairobi at the Kangemi Health centre.
KAVI-ICR and India's NCBS collaborate to enhance vaccine development
The team from NCBS led by Lt. General Velu Nair, met the Vice-Chancellor, Prof. Peter Mbithi when they paid a courtesy call on him on March 21, 2018.
The University of Nairobi's KAVI-Institute of Clinical Research (KAVI-ICR) and the National Centre for Biological Sciences (NCBS), India, have established and initiated a collaboration to spearhead vaccine development through enhanced technology. According to the Director, KAVI-ICR, Prof. Omu Anzala, the partnership will see the team expand metagenomics sequencing from selected target groups in India and Africa and inform the newly emerging pathogens such as Chikungunya and Dengue in their virology, pathology, the point of care diagnostics and vaccine designs.
NCBS in Collaboration with KAVI-ICR Vaccine & Technology Platform
Initiation of the Collaboration between NCBS (India) and KAVI-ICR (University Of Nairobi, Kenya) while training University of Nairobi staff on flow cytometry 19th to 23rd March 2018.